cctv_idiots Happy 1st day of winter 😂🐶 pic.twitter.com/zJaF05twDe
BVG_Kampagne Leise kreuzt die M10
Die Schönhauser Allee.
Weihnachtlich leer ist die Fahrt,
Ganz Prenzelberg ist in Stuttgart.
@kaltm0msell @twichtelnorg Das geht jedem so. Ich habe Lichterketten verschickt und die verlieren total gegen eine BIERMARMELADE.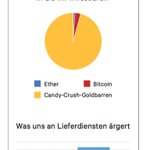 DIEZEIT Alles, was @katjaberlin sagt. pic.twitter.com/3G1gD9f4qx
DanLinden This is the current air traffic over the United States. #Christmas #Holidays pic.twitter.com/Ymg2tFIzUf
Mein @twichtelnorg Geschenk ist da und hurra, seit eben weiß ich, dass es BIERMARMELADE gibt.

Großes Kino. So toll.
Jemand backt einen Mohnstollen. Die Kinder wurden solange ins Kino geschickt, ich meide in den nächsten drei Stunde..twitter.com/i/web/status/9…Nb
Gehe jetzt zu Aldi. Erwarte das schlimmste. Es war schön mit euch.
"ist ein Postbeamter anwesend?"

Das war eine schöne Folge der Freeses. @ndr2