Hurra. Nur 1:25 bis nach Hause.
@_jrg so weit ist die Weihnachtsfeier noch nicht.
Mitte Dezember und ich stehe im T-Shirt draussen.
Ein Schiff. Da ist ein Schiff!
Heute gibt es Soup de l'air pic.twitter.com/IXE5qS9qqd
Der @HamburgAirport schenkt uns heute Autos. Danke dafür. pic.twitter.com/eIjTTQWYtA
Weihnachtsfeier Selfie @ Süllberg Hamburg instagram.com/p/BN7Q-sVA74A/
Books 2016 – die hesslichsten Bücher haben die intrissantesten Geschichtepop64.com/unentschieden/…qpic.twitter.com/8n0wXFIqlxlx
@_fennek_ doch. Aber ist doch total sinnlos, weil es alles gespeichert wird.
Von Datenschutz her 1 ganz mieses Gefühl
Ach je. Warum? pic.twitter.com/1vpOcBqynu
Haha. In meinem Spotify Mix der Woche tauchen Videospielsoundtracks auf. Wie habe ich das nur gemacht?
@Onleihe @Buecherhallen und die speichert das nicht, weil irgendwelcher Stuss mit Datenschutz? Ich ahne es schon. Schlimm.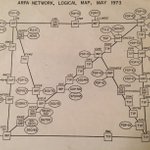 workergnome Going through old papers my dad gave me, I found his map of the internet as of May 1973.

The entire internet. pic.twitter.com/0krvYoRGav
Warum in 3Teufelsnamen sieht man weder auf @Buecherhallen noch der @Onleihe Webseite eine Liste der gelesenen Titel? Datenschutz? Nerv.
Frühstück für mich, Frühstück für K1. instagram.com/p/BN6COCwgpUw/