Huebscherei "Mama, weißt du noch, als wir die Taube mit Blumen beerdigt haben?"

"Aw, ja mein Schatz."

"…"

"…"

"Ist das Skelett jetzt fertig?"
"Die EU hat wieder 1 GB frei"

Super Witz im Familien Chat. Musste laut lachen.
Bin jedesmal wieder erstaunt, wie mies sich dieser Platz anfühlt. So eine tolle Bücherhalle,..instagram.com/p/BHCjMlcgqiu/SZ
Gibt es irgendwo eine verständliche Zusammenfassung der Argumente für #brexit?
Warum haben die Leute so entschieden? Was wollen die haben?
Taskliste in SharePoint. Geht das auch in hübsch? Mit viel WAF?
LondonEconomic The UK is no longer the world's 5th largest economy. The £ has fallen so far that France has overtaken us. #EUref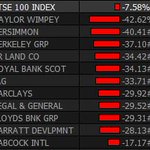 AlasdairPal Never seen anything like this pic.twitter.com/BQPRVZ1N48
@tobetop einmal alles neu. neue Kiste. Neue Platten. Auch fürs Backup.
Gestern 32 Grad, heute Regen. Auf das Wetter in Hamburg ist Verlass.
Das NAS läuft. Der Tag fängt gut an.