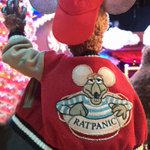 Rizzo Here's an exclusive for ya, Twitter: The back of my famous red jacket! Try to contain your excitement. #TheMuppets pic.twitter.com/ompYwmo9zh
Und wie immer bei solchen europaweiten Email Dingsis kommt dann die Schweiz und ruft "Grüzi Meister. Wir haben aber mind drei Sprachen".
Dinge, die mir manchmal Kopfschmerzen bereiten: europaweite Segmente, based on Sprache und Land oder nur auf Sprache oder Sprache UND Land?
"Warum kann ein Elefant nicht Fahrrad fahren?
Er hat keinen Daumen für die Klingel!"
Gnihihihihi

Das Kind erzählt gute Witze.