Mit Taschenlampe im Mund ist die Gartenarbeit doch etwas suboptimal. Dann doch lieber nen Wein trinken.
@talinee die erwähnten, kleinen Steine, habe ich hier gesammelt. pic.twitter.com/QZgWRXWqvJ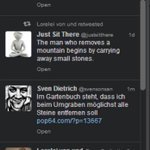 talinee Ob das auch das richtige Buch war, @svensonsan ? pic.twitter.com/3kS01neFhF
Im Gartenbuch steht, dass ich beim Umgraben möglichst alle Steine entfernen soll pop64.com/?p=13667
Warum kann ich das Foto von diesem Stein nicht twittern?
So viel zum supergeilen "entfernen Sie beim umgraben möglichst alle Steine" Tipp ausm Gartenbuch.
Hallo Garten. Ich grabe jetzt weiter um. Und ja, es dauert länger als erwartet.
Beware of the Bügelware. pic.twitter.com/9Q0sRmxpjU
Haha. Die Koksgabel für Familienväter und Gartenbesitzer. So geht das alles seinen Gang. Was es alles gibt. pic.twitter.com/vByq0sTCzL
Wollte einen Witz übers Forken machen. Aber verflixt, die Grabgabeln nenne sich tatsächlich auch Forken. Mein kleiner IT Garten. Hach.
Domian hört auf. Endlich.
Sehr gut. Lesen und lernen. USB-C ist nur der Stecker. Das "Kabel" ist dann USB 3.1 und kann 100W! Das wird lustig.
cnet.com/news/usb-type-…
Buddenbohm Meine lieben Gleichaltrigen - habt Ihr auch alle den Erinnerungs-Flash an die Digitaluhrspinner damals in der Oberstufe? Mit Rechner und so?